It's The Bible Course with added flexibility and convenience.
Be ready for whatever life brings you with The Bible Course–a comprehensive journey through the Bible for Catholic discipleship.
The online, virtual class offers the same expert teachers and in-depth curriculum as our in-person, parish-hosted classes of The Bible Course, but in a different, online format.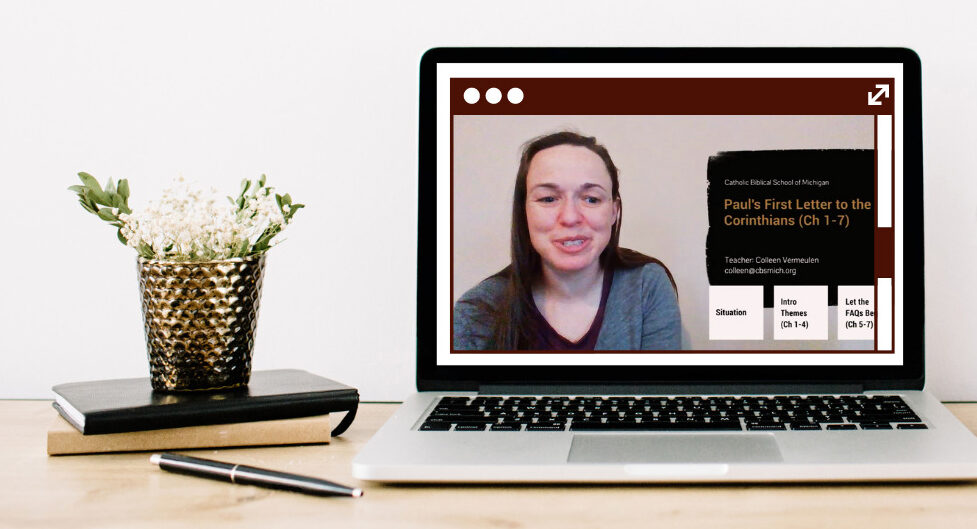 Elements of the Online Course Format
Teaching both "Head" and "Heart"
Weekly Lectures
Each week's lesson includes 55-75 minutes of video-lecture (conveniently divided into segments, so you can watch in smaller segments throughout the week). 
In the lecture, your teacher unpacks the cultural, historical, and theological context of the Bible and invite you to encounter God and the movement of the Holy Spirit today!
Lectures can be downloaded and include captions for maximum accessibility. 
Two-Way Communication and Engagement
A Real Teacher
Unlike in a video-series or webinar-course, your teacher is available for two-way communication, so you can get real answers to questions and be guided through the Bible. 
We do this through:
optional, live video-conference ("Zoom") Q&A and open discussion time with your teacher (held weekly)
teacher comments on your (optional to submit) written discussion question reflections
comments and replies in your class' private Google Classroom
Taking Time to Listen
Prayerful Reading
Each lesson has assigned readings from the Bible. We read books of the Bible in their entirety, to enter into these inspired texts and get the big picture of God's plan. 

We offer a "prayer prompt" to help you encounter God's voice in each week's readings. 
We suggest setting aside 2 hours per week (just 20 minutes a day!) for prayer and Bible reading. 
Finding Community in the Scriptures
Option to Join or Start a Small Group
In Jesus' time, discussing the Scriptures was one of the ways God's People came to know God more deeply. 
While not everyone in an online class has the time for small group discussion, we make live discussion available to all. 
You can: 
join a weekly online video-conference ("Zoom") small group (we provide a small group facilitator)
start or organize your own small group (meets online or in-person) with people you already know from your community
My main reason for joining this class was to encourage me to read the Bible and to gain a better understanding of Scripture. I especially like the videos and written material from my teacher. I also enjoy the small group discussion sessions because it lets me hear other peoples perspectives on the material. ​
I am in Year B and both this year and last year were very good and so useful to me. I highly recommend this class to anyone that I talk to!
I appreciate the thoroughness! I have read the Bible from front-to-back twice, but I am getting so much more out of it this time! I love the videos and materials. God knows that I want to be closer to Him and this is the perfect way to do it!
I love the interaction with the instructor!
I especially like the flexibility of taking the course online in regards to reading and answering the questions. I can do it at my own pace and pick a time to read the Bible when I have the quiet time available. I get more out of it when I am relaxed.
It's a great spiritual atmosphere to get to know God better while studying the Scriptures. Great teacher, classmates, and a chance to grow.
I enjoy my teacher's expansive knowledge of the Prophets and his ability to summarize and look at the whole picture; particularly as to how it relates to today and our own faith. Love his zeal. He is personable and motivating!
I am in a busy season of life and being in this course makes sure I stay in my Bible!
"The Bible Course" curriculum and materials across all four years are excellent and solidly based on Christ's mission. Everything ties into and reminds us of God's Covenant with us. There are a lot of curriculums out there, but this one is excellent. Starting was a good choice!
I appreciate the deep love and enthusiasm for Scripture that I see and hear my teacher!