It's The Bible Course with added flexibility and convenience.
Be ready for whatever life brings you with The Bible Course–a comprehensive journey through the Bible for Catholic discipleship.
The online, virtual class offers the same expert teachers and in-depth curriculum as our in-person, parish-hosted classes of The Bible Course, but in a different, online format.
You can join this course as an individual (and opt in one of our virtual small groups if desired) or join as a group (and have a small group discussion with people you already know).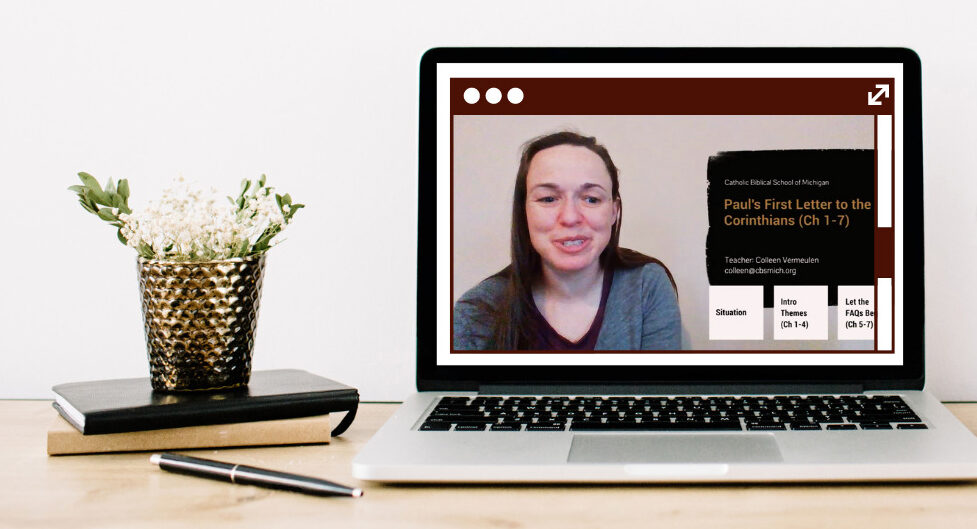 Elements of the Online Course Format
My main reason for joining this class was to encourage me to read the Bible and to gain a better understanding of Scripture. I especially like the videos and written material from my teacher. I also enjoy the small group discussion sessions because it lets me hear other peoples perspectives on the material. ​
I am in Year B and both this year and last year were very good and so useful to me. I highly recommend this class to anyone that I talk to!
I appreciate the thoroughness! I have read the Bible from front-to-back twice, but I am getting so much more out of it this time! I love the videos and materials. God knows that I want to be closer to Him and this is the perfect way to do it!
I love the interaction with the instructor!
I especially like the flexibility of taking the course online in regards to reading and answering the questions. I can do it at my own pace and pick a time to read the Bible when I have the quiet time available. I get more out of it when I am relaxed.
It's a great spiritual atmosphere to get to know God better while studying the Scriptures. Great teacher, classmates, and a chance to grow.
I enjoy my teacher's expansive knowledge of the Prophets and his ability to summarize and look at the whole picture; particularly as to how it relates to today and our own faith. Love his zeal. He is personable and motivating!
I am in a busy season of life and being in this course makes sure I stay in my Bible!
"The Bible Course" curriculum and materials across all four years are excellent and solidly based on Christ's mission. Everything ties into and reminds us of God's Covenant with us. There are a lot of curriculums out there, but this one is excellent. Starting was a good choice!
I appreciate the deep love and enthusiasm for Scripture that I see and hear my teacher!